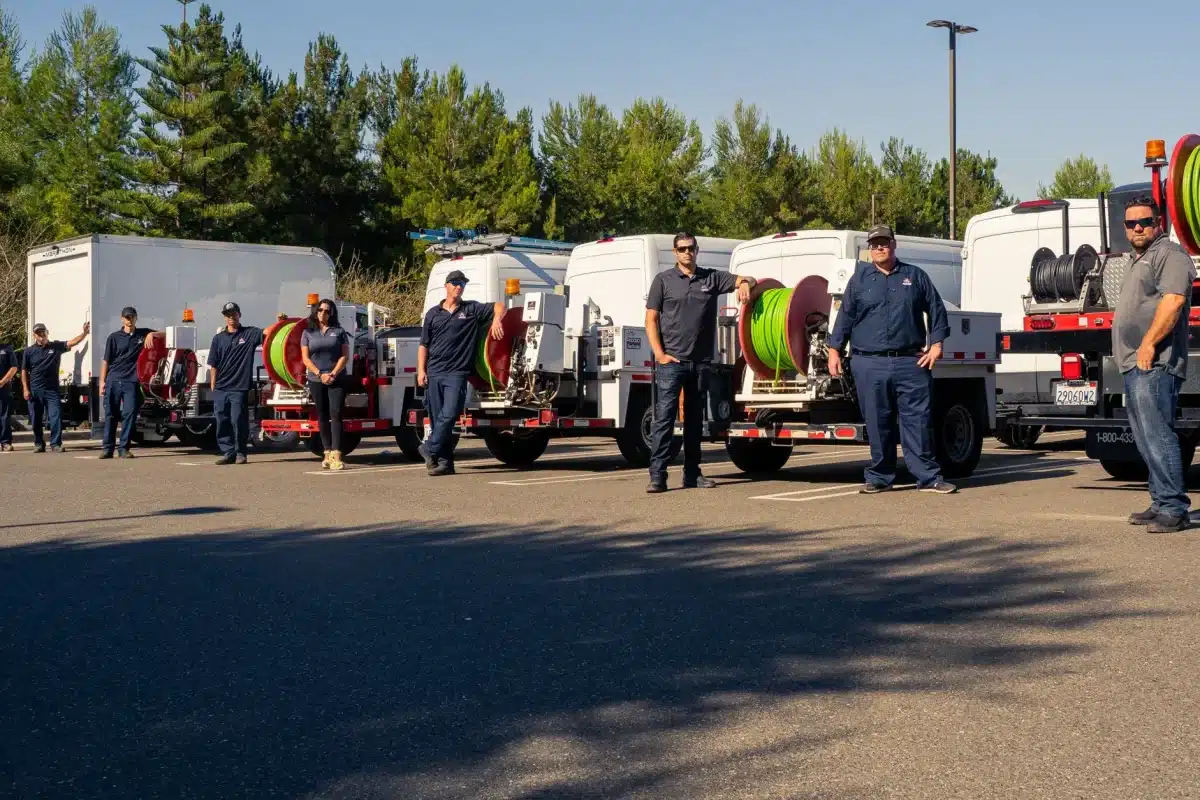 Hydro jetting: When cables and chemicals can't do the job.
When pipes clog the first thing most people try is using a "snake" or cable machine to fix the problem, some will even resort to using chemicals. It is important for property managers and homeowners to maintain the drainage systems servicing their properties. Hydro jetting is an essential service to help keep those systems clear of buildup and flowing. Deferred or neglected maintenance can lead to expensive emergency service calls, property damage, and or fines.
 What is a hydro jetter?
A hydro jetter is a commercial-grade pipe-cleaning machine. It is regularly used to clean sewer and storm drainpipes, depending on the hose and nozzles used a hydro jetter can clean pipes from 1 1/2 "to 8+ "in diameter. While pressure washers operate at 3000PSI they only produce three to five GPM in most cases, hydro jetters typically operate up to 4000 PSI and produce at least 18 GPM (Gallons Per Minute) This ensures you have the volume of water needed when servicing your drains.
Then what is hydro jetting?
Hydro jetting is the term used when a hydro jetter is utilized to clean drainage pipes. A technician will choose the appropriate size hose, nozzle, and pressure to clean the drainage line depending on the size of the pipe. The type of material used to create the pipe (cast iron, clay, ABS, etc..) and the existing conditions of the pipe will also be taken into consideration.
Why hydro jetting?
While cables or "snakes" can unclog a stoppage they travel along the bottom of the pipe and often use a cutting blade in attempts to clear root intrusions and other stoppages. A hydro jetter can reach places cables can't the hydro jetter nozzle is able to propel the hose through the pipe with high pressure water. The jets of high-pressure water from the nozzle provide a scouring effect that can clean the circumference of the pipe, as a result root intrusions entering the top of the pipe can be removed more effectively. Hydro jetting can also remove years of waste, scale, and grease buildup from pipes.
Preventive maintenance with a hydro jetter.                                                            
Preventative hydro jetting maintenance can Reduce the risks of clogs due to grease, roots, and waste buildup. Residential, commercial and industrial properties can all benefit from a preventative hydro jetting service. A maintenance program can be created to suit the needs of each individual property. Preventive maintenance can help reduce the need for costly overtime emergency service calls.
The chemical-free option for cleaning your drainage system.
Cleaning your pipes with pressurized water from a hydro jetter allows the customer a cleaning option where harsh chemicals are not used in the cleaning process, only water is used so no chemicals will be introduced into your sewer, septic tank, or storm drains.
The value of hydro jetting.
Hydro jetting can remove years of buildup from pipes extending the life of the drainage system. Reducing the risks of emergency service calls, and sewer spills that could result in warnings and or fines from a local governing agency. Staying proactive with preventative hydro jetter maintenance can also help reduce the need for costly emergency service calls and help improve the overall annual operating cost in your maintenance budget.
Multiple applications.
Hydro jetting can be performed on sewer drains as well as storm drains some examples of service on sewer lines would be hydro jetting sewer main lines kitchen drains, floor drains, floor sinks, grease trap lines, grease interceptor lines, and washer drains. Some examples of storm drains would be area drains, pool deck drains, collection boxes, curb outlets and roof drains.
Thank you.
Here at drain mob LLC. We specialize in drain cleaning and hydro jetting is an essential service we provide. It is a cost-effective solution to clearing clogged pipes where other methods are not as effective and cannot produce the same results as hydro jetting. Hydro jetting technology has been available to the public for several decades and has a proven track record of excellent results in the field of service plumbing and drain cleaning if you're looking to service your sewer or storm drains consider hydro jetting for your service and maintenance needs.